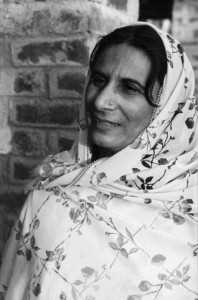 In a militantly conservative society, Nusrat Ara has helped women in the North Western Frontier Province empower themselves without having to discard their traditional moorings.
Nusrat Ara (born 1954), who hails from the North Western Frontier Province, took charge of her life, first by educating herself after marriage and then by launching an organization for women's development in her hometown, Mardan. Her pioneering work at the district and community levels for more than two decades has helped women empower themselves in a gravely conservative society, without losing their traditional moorings.
Nusrat Ara overcame stiff resistance to complete a master's program and a course in homeopathy. Fortunately, with her father's support, she finished school and joined college. Her husband, a cousin, supported her desire to work for the welfare and social development of women. Nusrat saw women experiencing domestic violence and other forms of oppression. She focused on helping them generate income. With no infrastructure, she launched her Women's Development Organization in 1995, organizing committed social activists who had few resources, but extended their work in 2000 with funding from the South Asia Partnership, Pakistan. Nusrat has focused on the socioeconomic development of women, their political empowerment, gender development, combating violence against women, and child labor. She set up skills training and literacy centers for them, along with awareness-building and mobilization programs. Women were taught sewing, knitting, and embroidery, and many went on to earn their own living. Nusrat has targeted reprobate customs such as Karo-Kari (honor killings), and swarah, which leads to women being married off to men to settle disputes. She also worked to end the custom of women being married off to much older men for a "bride price". Nusrat motivated women to fight local elections. Although there are 33 per cent seats earmarked for them, women are discouraged from participating in the political process. So, Nusrat contested, and won: she is now a member of the district council. Women have learnt to exercise their rights without losing their traditional moorings. Although the region remains puritanical, much greater tolerance for Nusrat's work has seeped in. It is reason enough for her children to follow in her footsteps.
Women's Development Organization
South Asia | Pakistan
This post is also available in Deutsch and Global Site.