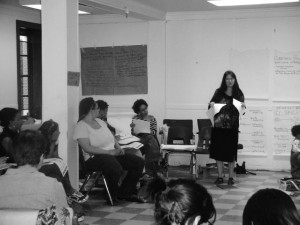 "It is futile to try to combat interpersonal violence without addressing the fact that we live in a world structured by violence."
Andrea Smith combines intellectual study, professional skill, and personal passion to shed light on violence against women of color in the USA. The violence comes from many corners of society, including family members, immigration officials, police, and employers. Andrea began her advocacy work as a rape crisis counselor with Chicago Women of All Red Nations. She cofounded Incite! Women of Color Against Violence, a national organization that uses direct action, dialogue, and grassroots organizing to end violence against women of color. Andrea teaches at the University of Michigan.
Andrea Smith, who is a Western Band Cherokee, tells the story of a woman from her community: "A young native woman was gang raped by prominent members of an urban Indian community where I lived. When she sought justice, the community blamed her and told her she was dividing the community by airing its 'dirty laundry'. At the same time, she had difficulty getting help from the mainstream antiviolence movement. In fact, the year before I began working in sexual assault services in that city, only one native woman had received services at a rape crisis center. The primary reason native women give for not going outside the community for help was that it was like appealing to a 'foreign government' for assistance." Indeed, it is often government officials who perpetrate violence, says Andrea. "The challenge women of color face is to combat both personal and state violence." Andrea has done this by organizing, speaking, and writing. She was the Women of Color Caucus chair of the National Coalition Against Sexual Assault and coordinated the first Color of Violence national conference held in 2000 at the University of California, Santa Cruz. This important gathering brought together activists and scholars who discussed relationships between racism, colonialism, homophobia, and gender violence in the lives and histories of women of color. When a second national conference was held in 2002, Andrea served on the conference planning committee. Andrea has received numerous honors and awards for her academic excellence teaching native American and women's studies courses. She holds a bachelor of arts from Harvard University in the comparative study of religion, a master of divinity from the Union Theological Institute and a PhD from the University of California, Santa Cruz, in the history of consciousness.
Incite! Women of Color Against Violence
Northern America | United States of America
This post is also available in Deutsch and Global Site.