Norma Pedroso Limoso (b.1942, Iloilo, Philippines)
Everybody calls her Mama Norma, because that is what she is—a mother.  She is a mother to nine biological children and a foster mother to countless others.  She was born in a family with nine siblings, from a barangay leader father and a school teacher mother. Mama Norma recalls that, aside from, or maybe because of her parent's religiosity, they have always been service oriented.  Their home was everybody else's home. Mama Norma never struggled with sharing what she has with strangers or even a crowd.
During her college days, Mama Norma was a working student. She was an employee at the Division Office of the Superintendent of Schools.  This is where she met a coordinator from Girl Scout of the Philippines (GSP), who recommended her to be a secretary at the GSP Cotabato Council Office in Mindanao. A year after she started teaching at Columbio Central School in North Cotabato.  This is where she met, Datu Mohammad Ali Franklin Dilangalen, whom she married in 1965 in a Muslim rite.  Like the house where she grew-up in, her home was everybody's home. Girl scouts and students who live in far flung barrios used her house as transient spot to do their schoolwork before going back to their farm work. There are times when these girls will  spend the night or their vacation days in her house. So aside from taking care of her relatives who occasionally visited, (which is common practice in the Philippines) Mama Norma also cared for several other dozen children. Among her "children" were Muslims, Christians, Protestants and Bilaan, Ilonggo, Cebuano. When asked why these girls stayed with her, Mama Norma remembered that their answer was, "they like being there, the girls like being with me."
When asked about her experience of difficulty in adapting to culture, Mama Norma shared a story. Mama Norma recalled that on Holy Wednesday in 1965 when a whirlwind ravaged the town several persons who took shelter in the Catholic Church were trapped inside because the building collapsed, one of the victims was a pregnant Muslim teacher. People were uncertain how to help her. They could not just decide to bring her to the hospital because they were afraid that the husband would get angry.  Nobody was supposed to decide for his wife except him or at least with his consent.  But since the husband was not around, Mama Norma insisted that the lady be brought to the hospital, and assumed all the responsibilities. The child did not make it, but the mother did.  In relating this, Mama Norma confessed that she too was fearful, she too was worried about the husband, like the rest of the crowd, because she understands the tradition.  But she said that she was happy she made the decision to help, despite and regardless.
In 1966 until 1967, Mama Norma went back to Iloilo for a study leave. It was the same time she was pregnant with her first daughter. Few months before Mama Norma gave birth, her husband went back to Cotabato.  Incidentally it was also the time when a number of towns in North Cotabato were declared as "no man's land" due to rebellion and militarization, many lives were lost, including her husband.  
In 1971, Mama Norma married Liberato Limoso.  Like her father, Mr. Limoso was a Barangay Captain.  Their house in Lambunao, Iloilo was used as a headquarters.  Her students, his constituents, old people, sick people, congregate to their house at any given time.  Since their barangay is far from the town center, resources were meager.  Mama Norma, assisted by bringing medical assistance to the barangay that she was able to collect from medical facilities in the center, sharing food from their farm's harvest, lending money from her salary as a public school teacher and sharing their house when somebody needs shelter. But more than seeing herself giving so much to people beyond her family, what she remembered most was how the community helped her care for her children, while she had to go to work.  By that time, she already had eight other children.
In 1986, she got in conflict with her relatives, for being vocal about her dislike of then President Ferdinand Marcos. In 1986 she was transferred to another school but she decided to leave the place to be away from trouble. Mama Norma went to the division office and found help from Mrs. Ida B. Endonila the Asst. School Superintendent of the Division of Iloilo Province. She was then detailed at the division office as liaison officer of the district of Lambunao East, to the Regional office and all other offices in the offices in the city if they have official business transaction. Her profession has not changed but her function became entirely different. She confessed that her role as a foster mother remained but the number of them increased.
She recalled one instance, while she was on the street going about her business, a mother with a son selling baby hammock approached her.  She refused to buy the merchandise because she did not have any young children anymore at that time.  However, when the mother said that she can have it at any price, just so they can buy food, Mama Norma brought them home and fed them.  While having a meal, the mother told her that they live in the mountains and that she is unable to feed her children properly, much less to send them to school. At that time, Mama Norma's own children were still in school, and she too struggles with how to support them.  But then again, she told the mother to leave her son, that she would try to find a way to send him to school. Mama Norma did not know how then, but her thought was, at least in her home, the boy will always have something to eat.  The boy stayed with them while studying taking up Hotel and Restaurant Management. Mama Norma helped him find a part time job at a restaurant. When a recruitment agency came and gave examination and oral interview the boy passed and he was sent to Dubai. Several years after the mother of the boy went back to Mama Norma to report that his son has recruited his brother and other relatives to work in Dubai. All her children are in school and they are now living in the town with enough food to eat and a home to stay. Mama Norma reflects "If you think about it, you are not only helping one person, but many from helping one".
Another incident, when Mama Norma was traveling, she saw an accident. Nobody seemed to mind that a person was hurt.  Without having second thoughts, she brought the patient to a hospital.  Since a procedure had to be done to the patient, a relative had to sign forms. In the urgency of the matter, Mama Norma informed the hospital that they are not related, but that she will sign the form and deal with the consequences later. It was very much like the time when she was in Cotabato.  Her concern for the patient was stronger than her worry about being persecuted for doing something irregular.  When the life of the patient had been secured, Mama Norma went on to find the family. Upon meeting them, they realized that the patient was actually related to her husband, by extension to her as well. A life saved. And she did not do anything extra legal after all. Mama Norma fondly shares that in instances like this, is a confirmation of her faith, "Indeed," she said, "the Lord knows my heart. And He knows that I have no wish, other than to help." And this genuine kindness saved her from troubles.
In the late 1990s, a group of Pakistani exchange students came to Central Philippines University, a university near Mama Norma's house.  A friend of hers who works in the university requested Mama Norma if she could help these students find a home.  She offered that the students can stay in her house until they find a suitable place to stay.  They ended up staying in Mama Norma's house, even after they found a place to rent, until they graduated. There were a lot of them, at one time there were twenty of them, that she had to feed, free of charge. And it seems that this act of kindness became known to other foreign students, because after the Pakistanis, a Korean followed. Like most of the people Mama Norma helped, these foreigners stayed in touch with her family and visits her when they come to the Philippines or at least contacts her online.
When asked how she was able to afford this and to assist many others all at the same time,  her answer was that unexpected assistance comes every time she needed help, like income generating projects from friends, honoraria from small activities, or other gifts. Mama Norma believes that, "Maybe the Lord knows that we are not selfish. We manage somehow. We will continue to share."
Mama Norma was so happy to share that her habit to help seemed to have rubbed off to her children. She has constantly reminded her children not to forget to show love, to strangers especially, and be the one to offer help. That they should be a blessing to other people. And opportunities to be a blessing to others continue to come to her family.  In 1992, a Philippine Military Academy jeep met an accident in Lambunao.  Some of her children saw this accident.  Like how Mama Norma extended her assistance to the accident she encountered a few years back, her children, who were mostly nursing students, took the initiative to bring those seriously hurt to a hospital.  Those with minor injury, were brought to her home.  This was a beginning of a long friendship between the Limoso Family and a group of Army men.  Every time these officers come to Iloilo, they choose to stay in Mama Norma's house.  One of them even had his engagement party in her house.
Recently, her eldest daughter, who is staying in Mindanao, shared that she is assisting people who have been falsely accused of crime.  Some of them are Muslims, like her father, others are not. But it does not seem to matter because Mama Norma's daughter, like her believes that kindness does not have a religion.
"I graduated in a Catholic School. I was married a Muslim man. I am a practicing Baptist. I do not discriminate against, religion, race, age or creed. We believe in one God. If you are doing that according to the will of the Lord, we are not different. That is life. It is not permanent. Anybody can be family. Even if we are not related by blood. If we love them. If trust them. If we respect them, they are our family." Quoting Pope Francis, Mama Norma added, 'It is better to build a bridge than a wall."
Reflecting on her life in service for others, Mama Norma remembered a question that was asked of her, "What if the people you helped do not remember you helped them?" Her response was, "I am happy not thinking about that, if they will remember it is OK, if they not the Lord knows my desire to help them is genuine. But if you touched lives, they will somehow remember you."
Her second husband has long passed away. Her nine children are now all professionals—they either work abroad or work in the Philippines.  Her house is much larger than what she had in Cotabato and that farm in the 1980s.  But what she finds beautiful and continues to hope for is to keep having guests—her house is never without one, literally, year round, to feed them and give them shelter; and she continues to receive anybody who needs help—from those borrowing small amount of money, to those requesting their children to be sent to school; to make their lives better so they too can help others.  She quoted a bible passage: "Let your light so shine before men, that they may see your good works and glorify your father which is in heaven (Matthew 5:16)", Mama Norma said, "this guides my principles in life."
When asked, what is it that would make her stop doing what she is doing? Her answer was brief, "None. I'll do this, until the end of my life."
__
Mama Norma now lives in Iloilo City. Most of her biological children are working abroad. Her days are spent between attending to part-time projects, service in the Church, and taking care of her household and the many people in her foster care, either by need or by choice. She dreams of building a transient home with medical facilities, free of charge, of course. She said, "So people will always have a home in Iloilo."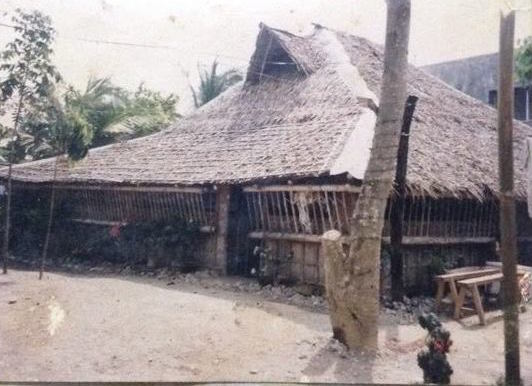 Her old house

With her biological children, husband and sister
Tags: foster mother; service to others; nondiscrimination
[1] From an indigenous group in the Philippines.