Dalit Rights are Human Rights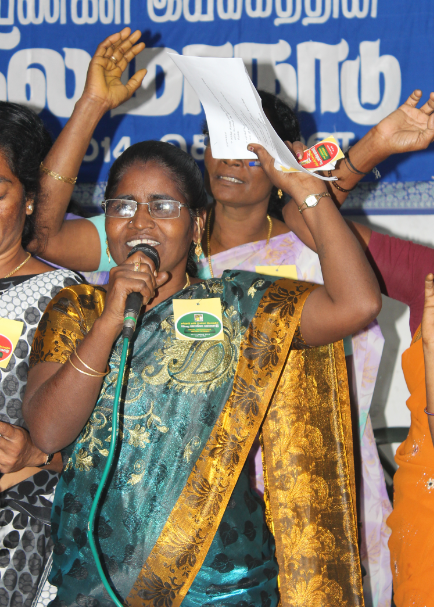 Grace is 48 years old, a graduate, from Perumuchi village, Vellore District, Tamil Nadu.  Grace was interested to do social work since her school days.  She was a leader in her class, took leadership in various activities of school life.  She was taking tuitions for poor children and non-formal education for adult women.  When the "Rural Women's Liberation Movement" got to know about her, they invited her to work with them in 1995.
Over the years she started addressing issues with Quarry Workers Movement, Mathamma Women's Liberation Movement, Agricultural Labourers Movement, Brick klin workers Movement.
The "Rural Women's Liberation Movement" was addressing the issues of atrocities on Dalits.  There was an incident of caste violence at Sethur village of Virudhu Nagar district, Tamil Nadu.  While working for the rehabilitation of victims the movement realized the need to have a separate organization to address Dalit Women's issues.
Thus "Tamil Nadu Dalit Women's Movement" was begun with the objective of challenging caste based violence and gender based violence.  This movement worked on the issue of Sethur Dalit violence, took up the issue with Human's Rights Commission and Women's Commission.  The perpetrators were punished and remedial measures were given to the Dalit Community.
Grace along with the movement addressed various issues of caste violence, like two tumbler system in tea shops, inaccess to roads and water resources and various untouchability practices.  The movement constantly addressed the issue of Dalit Women's land rights.  Over the years many land title deeds were got in the name of Dalit women. Now Grace is coordinating the state level operations of the movement.
Grace recalls the issue of Nukumbal village where a Dalit community was attacked by the dominant caste with petrol bombs.  23 houses were shattered.  The movement intervened in the issue and the culprits were arrested and the affected community received rehabilitative measurers to build safe houses.
Grace along with the movement addressed the issue of gang rape of a 23 year old girl.  The fact finding mission was held and the culprits were arrested.  The movement met the concerned Chief Minister who agreed to give a Government job for the girl.  The rape survivor also received the compensation.
Grace is good at doing assessment on post communal violence situation to roll out activities to seek justice and for rehabilitative activities. She also gives skill training as part of livelihood program for victims affected by communal violence.
Grace learnt to do counseling for victims of violence.  She also learnt advocacy skills to take up various issues with various Government missionary.  She is good at learnt public relation skills to take up the issue of Dalit women with the media.  Grace learnt to speak and write in English and acquired computer skills too.
Grace does training program on "land rights and prevention of atrocities against SC/ST Act". Grace states with the intervention of the movement the untouchability practices have reduced to a great extent in the working area, many land title needs were got in the name of Dalit Women, the police feels accountable due to the presence of the movement.
Grace highlights on various atrocities against Dalit women in various international fora.Her advocacy and field based activities are directed towards achieving land rights for Dalit women and propagating natural farming practices. She does capacity building on natural farming practices.
Grace states that still the roots of the caste structure are unshaken and getting land rights for Dalit women is becoming very challenging in post liberal economy scenario.
Grace has fought against practices of untouchability. Now there is a reduction in such practices and specifically the two tumbler system in shops and restaurants in her region.Due to her community mobilization work there is a quantitative increase in the second generation Dalit children getting college education. She has also been instrumental in enabling Dalit families getting concrete  houses through Govt welfare schemes
She believes that capacity building on legislations ,Human rights and Women's Rights education and policy reforms for welfare of Dalits would enable them to lead a dignified life.
She states that there should be effective mechanisms to implement the existing legislation against atrocities on SC/ST Act and various legislation against violence on women.